Jez and Julie, both 62, had a beautiful life in Brittany. The couple had moved there from York in 2000, after retiring from teaching, and had begun to buy, renovate and sell houses to make a living. They lived in a 300-year-old stone farmhouse by a lake.
"My mum died in 1995 when she was only 63," says Jez, who has asked for his surname not to be used. "That gave me a real kick in the pants to do something, which I always say is the best inheritance you'll ever get."
Their nearest neighbour was about a kilometre away and they never thought they would leave this idyllic setup. Then the pandemic hit and everything changed.
Jez and Julie started thinking about what would happen if they were to fall ill. They were isolated and travel bans meant no family would have been able to visit to care for them. Julie also wanted to be near her elderly parents in the UK. "As happened to so many people, the pandemic crystallised our thoughts. We umm-ed and ahh-ed, but decided it was essential we came back."
Unable to travel for any viewings, they scoured the property portal Rightmove for something suitable and ended up buying a house in Scunthorpe based on pictures alone. The sale went through in January 2021 and they were finally able to move in April, when France relaxed its travel restrictions. But the move back was, as Jez puts it, "traumatic".
"We pulled up outside and my first words were: 'What the hell have we done?' We'd had 20-odd years of being in the middle of nowhere and suddenly we were at the bottom of a small cul-de-sac," says Jez, who is keen to stress there was nothing wrong with the street he lived on and that his neighbours were "very friendly and welcoming".
"When we saw the pictures online, we thought: 'Fine, let's do it,' but when we arrived, I realised how much we'd changed. And, in the 20 years we'd been in France, Britain has changed massively. It's now a 24-hour society, but it wasn't like that when we left. It just didn't feel how I thought it would. It was naive on my part."
Jez and Julie quickly decided that they would do some work on the house then move as quickly as they could. A year later, they moved to Whitby, still near family, but in a cottage more like their house in France. Crucially, it was a property they had viewed in person several times.
"Never, ever would I do it again," says Jez. "And hopefully there'll never be another time when we'll be forced into doing it."
---
Considering how stressful it is to buy a house, and the vast sums of money involved, it's hard to understand why anyone would think of buying a place they hadn't visited in person, unless they had no choice because of the distances involved or travel restrictions. But even before Covid changed the world, in-person viewings were falling. In the year to February 2018, 37% of buyers surveyed by the insurer Aviva bought unseen. That figure had risen to 44% by 2019.
Unsurprisingly, the practice increased dramatically during the pandemic lockdowns. Aviva's survey of 2,200 people showed that more than half (58%) of people who bought a house between March 2020 and June 2021 didn't view it in person. But even now, when there are no restrictions, it's still happening more than you might think.
In May, for example, Claire and Thomas moved from Bristol to Kingsbridge in Devon, after buying a house they had only seen in a WhatsApp video. "It was the only thing we could have done," says Claire, 33. "We had a very specific budget and there were maybe four houses for sale we could have chosen. That was it. After one purchase fell through, having ticked all the boxes and been to see it, we just went for it and put an offer in on the biggest house out of those still available. Sometimes in life we can't control all the variables and have to make risky decisions. We think ours paid off."
Ian Jepson is a regional executive of estate agent industry body Propertymark and the branch partner of Michael Graham estate agents in Northampton. He has been selling houses for 34 years and has watched buying unseen grow throughout that time, with technology such as 3D mapping, 360-degree photography and virtual tours making it easier for would-be buyers. Five or 10 years ago, he would have said, like Jez, that no one should ever buy without a physical viewing. "Now, I wouldn't," he says, adding that he can envisage a future where house viewings can be carried out using a VR headset. So long as the buyer and the seller have all the information they need, he says: "Go for it."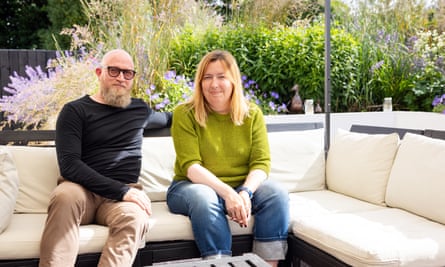 That was the approach taken by Lorna Walker, 50, and her partner, Matthias, 51, when buying their home unseen. Research was paramount.
They made the decision to leave the UK in the early days of the pandemic and eventually moved into their new house, in Omeath, Ireland, in October 2020. Not only had Lorna and Matthias not seen the place in the flesh, but they had never even been to the part of the country they now happily call home.
"We had been discussing moving to live in the EU ever since Brexit happened," says Lorna, whose dad was Irish. "I have visited various parts of Ireland and Northern Ireland – I studied in Belfast in the early 90s – just not the part I now live in. We more or less stuck a pin in a map."
That pin landed about 500 metres inside Ireland and satisfied almost all of Lorna and Matthias's requirements: halfway between Dublin and Belfast, they live near ferry ports and within range of three airports, making it easy to get back to the UK or to Matthias's native Germany. It was also important that Lorna's mum in the Midlands could move in with them in the future, which wouldn't have been possible if they had moved to the continent.
As soon as they zeroed in on the area, Lorna joined local Facebook groups, followed all the local businesses on social media and found out about the nearest hospitals and supermarkets.
"There's a lot you can learn from Google Maps and the Instagram accounts of nearby cafes," she says. "We had some requirements in what we wanted from the house, the same as anyone does. At that time, there were a lot of options in this area and the estate agent had made a video tour of the house. It used to be a B&B, so there was some information on the internet about that. We were fully aware that the estate agent would dress it up, but we had a survey done, too, which was a little more realistic."
Lorna, who runs a digital marketing agency, says she and Matthias, who works in education, didn't take the decision to do what they did lightly. "We are not rich people," she says. "This was a very serious financial commitment, not a glib purchase."
They each had a house to sell in the UK before pooling their resources to buy their house in Ireland.
"It was a very stressful period, but buying a house always is," she says. "And we were buying in a system that looks very similar to one in the UK, but is subtly different, so we had to adjust to that. But I don't think viewing the house would have made it any more or less stressful than it would have been anyway, buying a house in the middle of a pandemic.
"People buy houses all the time without really getting into the detail," she says. "They might go and look at it, but it's not really due diligence. You spend a small amount of time there, then you say you'll buy it. We did a lot more research than people who buy a house that they've been to."
Claire and Thomas, in Devon, also knew what they were getting into. "We were in a unique position as we were moving back to our home town, so we knew the area, and where the house was," says Claire. "I was pleasantly surprised when we finally moved in. I had mentally prepared myself for somewhere that was much rougher around the edges. I think having low expectations meant we were just thrilled to finally move in."
Many studies, meanwhile, show that in-person buyers spend an average of 20 minutes in a property before deciding whether or not to put in an offer – a recent survey by the estate agents Foxtons reckoned it could be as little as eight minutes. Another study, by HSBC, suggested most people spend far longer than that thinking about what to cook when having friends over for dinner, or deciding which pair of jeans to buy.
Despite speaking to people who have done it successfully, I still don't understand buying a home without viewing it. I live in south-east England, where properties go for an average of £494,000; the idea of spending the best part of half a million quid on something I have never seen in the flesh is baffling. For that kind of money, I would like to see things go the other way – for viewings to include an overnight stay, to let you really suss out the place. Do the pipes make a noise? Is one of the neighbours a soundsystem enthusiast with a penchant for testing his subwoofers at 3am? At the very least, a shower should be permitted: how is that water pressure?
Perhaps, above all else, I would need to know if my potential new home has a weird smell; I wouldn't trust an estate agent to be honest with me about that.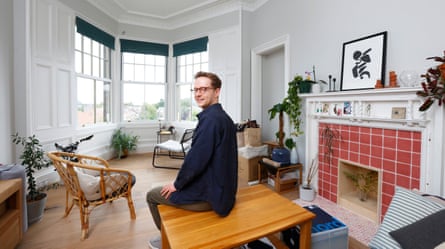 This was the primary concern of Alastair, who bought his flat in lockdown without seeing it. "I remember turning the key in the front door for the first time and thinking: 'Please don't have a smell, please don't have a smell,'" says the 31-year-old web design consultant from Edinburgh. (Luckily, it didn't.)
He met his partner, Tash, a building project manager, in September 2019. In 2020, in the early days of their relationship, they had gone away for a weekend in northern Scotland when Tash was called by a doctor, informing her she had been in contact with one of Scotland's first confirmed Covid cases and that they were required to quarantine.
They retreated to Alastair's one-bed flat, which he owned (Tash was looking to buy somewhere herself). It was during this enforced isolation that they decided that he would sell his place and they would buy somewhere else together.
"We were a serious couple at this point, but it was accelerated massively by the pandemic. That trip was our first weekend away together," he says, adding that none of their parents were yet aware of the relationship. "There was an awkward phone call to my parents that went: 'I've met someone, they might have Covid, so we've got to quarantine together and we're going to buy a flat.'"
It worked out, though: more than three years later, they are still renovating the flat they bought in Edinburgh – a property they had only seen pictures of before they moved in.
"Actually, we drove to see it one night to make sure it existed and wasn't a scam," he says. "It looked so great on Zoopla. There was a 360-view camera, so it felt as if we could walk around the place. Combined with a home report, which is done by the seller in Scotland, it meant we had a pretty good idea what it was like. There was no damp; the roof was fine.
"Thinking about it, going around to a house for 10 minutes and then deciding to put your life savings into it seems a bit daft. But I don't know what more we'd have known about the place if we'd been there. What would we have gained?" he says, adding that the flat, particularly the view across the city, actually exceeded his expectations.
"I continue to be amazed how well it's all worked out," he says. "I am generally a risk-averse person and this was a very big risk. And it totally paid off."
Denial of responsibility!
Yours Headline is an automatic aggregator of the all world's media. In each content, the hyperlink to the primary source is specified. All trademarks belong to their rightful owners, all materials to their authors. If you are the owner of the content and do not want us to publish your materials, please contact us by email –
[email protected]
. The content will be deleted within 24 hours.