Moving walls, table on wheels, a revolution in overcrowded living
Updated: 2019-11-01 07:42
(HK Edition)
As Hong Kong's living spaces continue to shrink, architects and designers are devising increasingly novel ways to make everything fit into a limited amount of area. Julianna Wu reports.
As the most expensive city in the world to live in, Hong Kong has built a reputation for housing people in jaw-dropping tiny, tiny living spaces that can be as small as a parking space. The Star Studio at Admiralty, for example, offers apartments of 142 square feet, just slightly over one and a half times the size of a Hong Kong taxi, which is around 86 square feet.
This is not a special case. Almost half the new private homes in 2019 are expected to be smaller than 430 square feet.
Since most young people have had to abandon their dream of ever owning their own home, there's got to be a way to make the situation better for those living in the "cage homes" or one-bedroom apartments partitioned for three families.
Architect and interior designer Gary Chang grew up in a 344-square-foot apartment that housed six other members of his family plus a tenant. He was always trying to come up with ways to make tiny spaces livable.
He'd been experimenting for years since he worked on the decoration of a Sai Wan Ho apartment in 1988. At that time, he tore down the walls and pushed all the furniture to the two longer edges of the rectangular space he had created.
In 2007, Chang applied full mobilization to his apartment. From washing machine, shelves and a refrigerator, to a working desk, bed and bathtub, he embedded everything into the slideable walls that are aligned on the side of the room to leave a 172-square-foot open space in the middle of his apartment. By sliding the walls and moving the furniture, the apartment can have 24 different layouts.
Chang's home might be an extreme case of mobilization, but it offers insight into how designers have been pushing the boundaries of interior design and coming up with more innovative and practical solutions to deal with the shrinking indoor space in Hong Kong's concrete jungle.
Multifunction is the key
When asked about how they design indoor living spaces for Hong Kong, interior designers bring up the word "multifunctional" every time.
Every planner may have their own take on the idea, but when they spoke with China Daily, they all agreed that one space cannot have only one function.
"For example, for an open kitchen that has dining table inside, the two functions of cooking and dining overlap in one space. That is how a space serves a dual purpose – one kitchen plus one dining room," said Glory Tam Chi-kiu, founder of Mister Glory in Hong Kong.
During his 13 years of designing experience in the city, Tam learned that giving each space multiple uses is essential. "Sometimes a windowsill can become a working desk, and a dining table can transform into a tea table or a working desk," he said.
To create multifunction spaces, flexible design and movable walls are being embraced more and more by Hong Kong designers as a way of redefining any given space.
Besides his own apartment, flexibility and transformation are also deeply rooted in Gary Chang's design work as founder of Edge Design Institute. At a 100-square-foot apartment in West Kowloon, Chang replaced the hard walls between the bedroom, living room and kitchen with sliding walls, and with exquisite design, the one-bedroom apartment could be transformed into a large open loft.
As apartments get smaller and smaller, Mister Glory's Tam often finds himself dealing with not only the space itself, but also the furniture that goes into the space. One of his most popular designs is what he built for his brother's new 460-square-foot home – a table named "the Dice".
The brown cube-like table is surprisingly multifunctional. It contains four chairs, a tea table, a small cabinet, and a foldable dining table that can seat seven people.
Though the original idea was simply to minimize the clutter in the room by hiding chairs and table legs, the Dice turned out to be more practical than its designer expected.
"I spend most of my time home on that table," said Honor Tam, a 32-year-old banker, "Eat, work, chill, and my girlfriend does sewing work on it because there's a sewing machine in the cabinet of the Dice."
Besides the Dice, Tam also offers clients a table on wheels, a Murphy bed that is hinged at one end to store vertically against the wall or other transformable furniture to suit the tight space.
The idea of applying multifunction and flexibility to practical living space can also be seen in commercial designs, as interdisciplinary homegrown design studio Openuu's co-partners and designers, Caroline Chou and Kevin Lim, told China Daily.
In their design of the retail space for fashion brand Ril Creed's first flagship store in Causeway Bay, Openuu replaced standard display shelves by three walls with hooks, holes and wooden bars. That way, the shop owner can rearrange the display anytime, using wooden bars, boards and metal frames with glass.
"We change the display more than 40 times a year according to our monthly theme, products and season," said Johanna Chan Hoi-yan, the co-founder and managing director of Ril Creed: "The design gave us the flexibility we looked for."
At a conference room Openuu designed for Nike's Hong Kong office, the room can be divided into several small rooms by a couple of movable partitions. The company can change the space under different circumstances.
When it comes down to budget, designs that are more flexible and transformable could be more expensive, according to both Openuu and Mister Glory.
"For example, there're different types of movable walls, if it's a simple one, it may be on the cheaper end, but a proprietary acoustically 100 percent soundproof movable wall could cost a lot more," said Caroline Chou, Openuu partner and design director.
Storage: needs vs wants
In the opinion of Tam, people often hold on to things that they don't really need or even haven't used for many years.
As much as this sounds like the recent Netflix hit Tidying Up with Marie Kondo, in which the Japanese consultant teaches people to throw away things that don't "spark joy", Tam respects clients' need of storage, and tries his best to accommodate those into his designs.
In one of his award-winning designs, Tam built a loft bed in a 250-square-foot studio to incorporate a storage room below as well as extra storage underneath the staircase.
This kind of "hidden storage" that blends into the design doesn't come out of nowhere. Commercial spaces like restaurants and offices also need a lot of storage, according to Openuu, but the question usually comes from the other way around: "When they (clients) approach the designers, they want something that looks nice. They don't necessarily think too much about the practicality sometimes," Lim said.
As designers and restaurant owners, Lim and Chou know the needs for storage for business and always try to come up with creative solutions and meet both clients' "necessities and wants".
'Challenging but beneficial'
The ever-shrinking indoor space can be a challenge for both residents and designers. Chou remembered they joined a couple of micro home design competitions back in the US and the space is "450 square feet or something – actually very spacious" compared with Hong Kong's micro homes.
Whereas in Hong Kong, "we literally take out a measuring tape and (say something) like 'OK, this is the minimum we can have to ensure that's still comfortable for use,' " Chou said.
"As designers there's always some sort of limitation, or restraint, or requirement on projects. It's just so happened that working in Hong Kong, space is always a limitation."
But designers believe the limitation of space can be beneficial, as it pushes them to think of better, more-creative and practical ideas. "Homes are getting smaller and smaller," Tam said, "but it's something that we as designers need to break through."
Chou agreed. "We do enjoy working on smaller spaces because it really provides interesting solutions," he said.
And it's not necessarily a bad thing to have a relatively small home. "The definition of home nowadays is different from the past," Tam said. "You can work in a cafe and socialize with friends outside, unlike in the past, when you want everything to be done at your home."
"In this age, people don't even talk to their neighbors. Having a small space at home can push people to go out more," said Chang, who was invited to design for many micro and transformable apartments on the Chinese mainland, plus Sweden, India and Russia, after his avant-garde work in Hong Kong.
At the end of the day, it was a question about "what do you want your life to be", said Chang, who likes to change the position of his bed at home from time to time just to have different perspective of his place. "And I love the idea of being mobile and not rigid," he said.
International design and ready-to-assemble furniture group Ikea is to launch a new robotic furniture line, Rognan, in 2020 exclusively to Hong Kong and Japan. Video from the corporate's social media shows a movable wall that includes a Murphy bed, a closet and a sofa similar to that in Chang's home.
Unlike Chang's 2007 design, Ikea's Rognan is robotic and comes with a touchpad for control. This piece of furniture is said to be able to save 86 square feet of space. Will that make Hong Kong home even tinier and make it possible for people to live on a wall? We shall wait and see.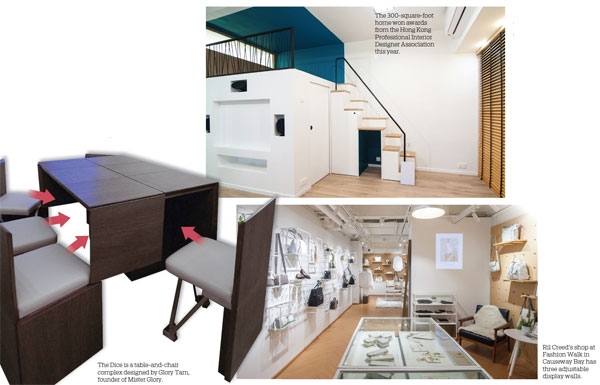 (HK Edition 11/01/2019 page8)
Denial of responsibility!
Yours Headline is an automatic aggregator of the all world's media. In each content, the hyperlink to the primary source is specified. All trademarks belong to their rightful owners, all materials to their authors. If you are the owner of the content and do not want us to publish your materials, please contact us by email –
[email protected]
. The content will be deleted within 24 hours.