'I'm going crazy with this. My wife yelled at me last night. We got into a fight'
Get the latest from Mark Daniell straight to your inbox
Article content
Howard Stern says that he is so paranoid over a new strain of COVID-19 that it is causing problems in his marriage.
Article content
During a segment of his Sirius XM morning show, Stern, who became a shut-in after the virus tore across the planet in 2020, admitted he is terrified of contracting the illness while his wife, Beth Ostrosky, is much less worried.
Article content
"I'm going crazy with this. My wife yelled at me last night. We got into a fight," the 69-year-old shock jock said [per Fox News] when a caller asked how he's coping with the news of the latest coronavirus strain.
"You know how paranoid I am about getting COVID. I haven't gotten it, and I'm pretty safe, and I really don't want to get it."
Stern also vented about friends trying to ease his fears by telling him it's "just a cold."
"Everyone goes, 'Don't worry, it's just a cold for me.' It'll probably be way worse. You know what I mean? I mean, I'm the lucky one who will completely fall apart," Stern said.
Article content
Stern cited his age difference with his wife — who is 51 —  as another thing driving his fears.
"You know, my wife's considerably younger than me, as you might have heard. And you know, she's not as concerned about getting COVID as I am, because, you know, I'm an older dude."
After several years of lockdown, Stern said he had just started to relax in public and had already started to accept the fact that he might catch the virus.
"Beth has a bunch of plans. She has like a wedding shower to go to and lunch to go to with a friend and a dinner and a blah, blah, blah, blah, blah. So, you know, we're really making an effort. We go out to restaurants. We went to the Ed Sheeran concert. We've really been out there. I haven't gotten COVID. And I'm like, you know what? If I get it, I get it," he said.
Article content
"Then all of a sudden they announce there's a new strain of COVID and it's on the rise. And, you know, people are being hospitalized. 'It's time to go back down into lockdown.' And I'm like, you mean I'm just emerging, and now I'm going back into lockdown!"
Stern then recounted one of their fights in which he told Beth, "I'm scared."
"I'm just expressing my fear to you, and I'm scared," he recalled telling her.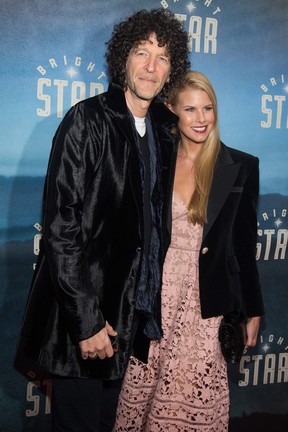 During the pandemic, Stern fired many shots at anti-vaxxers, at one point calling on hospitals to deny help to patients who refuse to get the coronavirus vaccine.
"If it was up to me, anyone unvaccinated would not be admitted to a hospital. At this point, they have been given plenty of opportunity to get the vaccine," he said on his radio show last year [per Variety].
Article content
"(Anti-vaxxers) have been told you will die if you get the vaccine. Some of you will live, but most of you will die. (These people) don't trust our government. They think that there's some conspiracy to turn them into a magnet or something like this," Stern said. "They think they are going to become magnetized if they take the vaccine. I've taken this vaccine three times, and the worst side effect is for a day, I had a little bit of a headache."
But Stern went on to tell listeners that there isn't a conspiracy afoot.
"Americans don't want to create a vaccine that's going to turn you into a robot or magnetize you. There's enough Americans now that have taken it. Look at us as a sampling where nothing has happened to us. It's time for you to get it. Now, if you don't get it, in my America, all hospitals would be closed to you. You're going to go home and die. That is what you should get. Absolutely."
Article content
Stern has been arguing to make vaccines mandatory since they became available, telling listeners he has "no time for idiots."
"We don't want you … stay home, die there with your COVID," he said on his radio show.
Stern briefly emerged from his "apocalypse bunker" to have dinner with celebrity pals Jennifer Aniston, Jimmy Kimmel, Jon Hamm, Justin Theroux and Jason Bateman last fall.
"Howard was there without even a mask. They all sat at a large table, Howard was seated next to Jimmy and also at one point seemed to be in deep conversation with Jon Hamm. Stern told restaurant staff this was his first night out since the start of the pandemic," a diner told Page Six.
"For the first time in two years I ventured out of the house," Stern said of the experience. "It was too much for me. It was too much. I haven't been out in two years."
But the radio personality has kept to a small circle. Earlier this year, Real Time host Bill Maher questioned whether he would ever get a chance to see Stern again.
"I don't think I'll ever see him again because I don't think he'll ever leave the house because he's very, very … scared of germs," Maher said.
Howard Stern 'dumbfounded' over Kid Rock's Bud Light protest

Howard Stern rips coronation, calls King Charles a 'vampire'

Howard Stern says hospitals should ban anti-vaxxers: 'GO HOME AND DIE'
Denial of responsibility!
Yours Headline is an automatic aggregator of the all world's media. In each content, the hyperlink to the primary source is specified. All trademarks belong to their rightful owners, all materials to their authors. If you are the owner of the content and do not want us to publish your materials, please contact us by email –
[email protected]
. The content will be deleted within 24 hours.