Star-studded edition of annual celebration of cinema returns (without many of the stars)
Get the latest from Mark Daniell straight to your inbox
Article content
The Toronto International Film Festival is ready to roll out the red carpet, albeit a much shorter one.
Article content
Traditionally, the annual celebration of cinema has been a mix of glitzy red carpet premieres and prestige pictures with awards season ambition. But with many notable actors and A-list stars skipping this year's event due to the ongoing actors strike, the 48th edition of TIFF will mark a return to the scaled-down festivals in 2020 and 2021. The line-up, which boasts more than 200 features, kicks off Thursday night with the debut of Hayao Miyazaki's The Boy and the Heron.
Article content
Still, even without the stars, this year's Toronto film fest will unveil a number of anticipated titles.
"The films that will turn up in your local movie theatres or your streaming service later on — many of those will start their lives at our festival," TIFF CEO Cameron Bailey said. "The reason we've become such a big festival is because the audience really matters here. It's not just for people who are in the know."
Article content
Since 2010, 10 films that have screened first at TIFF have gone on to win the Academy Award for Best Picture. Its coveted People's Choice winner almost always goes on to become a big player during awards season.
"We're helping shape what's seen as valuable in film," Bailey previously told Postmedia.
With more than 200 films screening at this year's edition, which runs Sept. 7 to 17, here are 25 titles we think people will be talking about after they exit a darkened theatre over the next 10 days.
Daddio
Arriving back at JFK after returning from a visit with her older half-sister in Oklahoma, a woman (Dakota Johnson) opens up about her troubled personal life during a ride with a philosophizing cab driver (played by Sean Penn).
Article content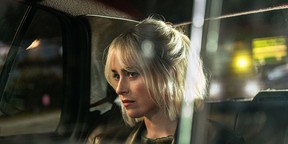 Fair Play
Bridgerton star Phoebe Dynevor and Oppenheimer actor Alden Ehrenreich play a power-hungry couple who find themselves competing for the same job at a cutthroat financial firm.
Dumb Money
Depicts the financial war between amateur investors and hedge fund billionaires as they fought over the price of GameStop stock in 2020 and 2021. Hedge fund managers bet billions the company would fail, with one man (played by Paul Dano) convincing everyone else at home the stock was undervalued and sending its share price skyrocketing.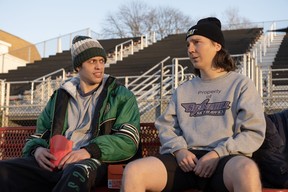 Pain Hustlers
Based on the book by Evan Hughes, Emily Blunt and Chris Evans play the pharmaceutical drug reps who unwittingly helped kickstart America's opioid epidemic in the pursuit of financial success.
Article content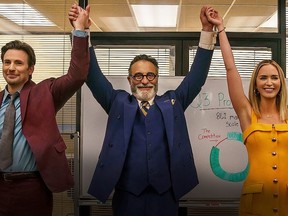 Sly
Directed by Thom Zimny (Springsteen on Broadway, Western Stars), the heartfelt documentary gives audiences an intimate look at the life and career of Hollywood icon Sylvester Stallone.
Stop Making Sense
Talking Heads bandmates David Byrne, Tina Weymouth, Chris Frantz and Jerry Harrison make a rare public appearance to celebrate the 40th anniversary of their landmark concert film.
Hate to Love: Nickelback
In addition to playing a free show on TIFF's Festival Street, Alberta rockers Nickelback will take a look back at their roller-coaster career as the band haters most love to hate.
In Restless Dreams: The Music of Paul Simon
Oscar-winning filmmaker Alex Gibney follows Paul Simon into the studio as he works on his 2023 album Seven Psalms.
Article content
Mountain Queen: The Summits of Lhakpa Sherpa
The documentary traces the journey of a single mom working at a Connecticut Whole Foods who has another life as record-breaking mountain climber.
Copa 71
Tells the story of a 1971 international women's soccer tournament that had record setting crowds in Mexico City, but was scrubbed from sports history.
Next Goal Wins
Michael Fassbender stars in Taika Waititi's comedy about the American Samoa soccer team's attempt to make it to the World Cup — 12 years after their infamous 31-0 loss in a 2002 qualifying match.
Hit Man
Director Richard Linklater reunites with his Everybody Wants Some!! star Glen Powell for the true-life story of a philosophy professor who moonlights for police as a phony contract killer.
Article content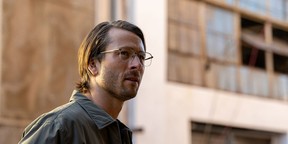 Knox Goes Away
Michael Keaton pulls double duty, directing and acting in a crime drama about a dementia-afflicted hitman trying to help his estranged son (James Marsden) cover up a crime before he loses his memory.
Seven Veils
Academy Award–nominated Atom Egoyan reunites with Amanda Seyfried for a story of a theatre director who unearths dark and disturbing memories from her past after she's tasked with remounting her former mentor's most famous work.
Finestkind
Two estranged brothers are pulled into a deal a with an organized crime syndicate in Boston, which spells danger for their family and a mysterious young woman caught in the middle. Oscar winner Brian Helgeland directs with Jenna Ortega, Ben Foster and Tommy Lee Jones starring.
Article content
The Zone of Interest
Adapted from a 2014 novel of the same title by Martin Amis, Jonathan Glazer (Under the Skin) directs a story of Nazi commander (Christian Friedel) and his family as they live in domestic bliss just over the wall of the Auschwitz concentration camp.
Quiz Lady
Awkwafina and Sandra Oh play estranged-sisters who work together to help pay off their mother's gambling debts.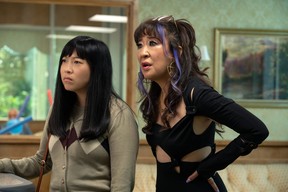 Flora and Son
The latest from Irish writer-director John Carney (Sing, Begin Again) centres on a young single mother (Eve Hewson) who forges a connection with her son through music after finding a guitar in the trash and striking up a friendship with a musician (Joseph Gordon-Levitt) online.
Rustin
TIFF's Tribute Award winner Colman Domingo plays the titular queer activist as he plans the 1963 March on Washington where Martin Luther King Jr. delivered his "I Have a Dream" speech.
Article content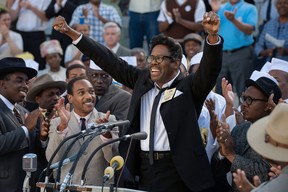 North Star
Directing for the first time, Kristin Scott Thomas leads a family drama that follows the tenuous reunion between three sisters (played by Scarlett Johansson, Sienna Miller and Emily Beecham) as they gather in the English countryside for their mother's third wedding.
Woman of the Hour
Anna Kendrick directs the stranger-than-fiction story of Rodney Alcala's appearance on The Dating Game in the middle of his 1970s killing spree.
The Royal Hotel
Julia Garner and Jessica Henwick star in a new thriller about two backpackers who are forced to take a job a bar in the outback after they run out of room.
The Critic
A theatre critic (Ian McKellen) and an actress (Gemma Arterton) are forced to take desperate measures to save their careers.
Article content
The Holdovers
A strict professor (Paul Giamatti) forms a bond with a troublemaking student (Dominic Sessa) and a school chef (Da'Vine Joy Randolph) during a holiday break at an elite prep school.
Wildcat
Ethan Hawke explores the life and art of American author Flannery O'Connor in this biopic starring his daughter Maya.
The Toronto International Film Festival runs Sept. 7-17. For tickets and info, visit TIFF.net.
TIFF 2023: Festival announces star-driven titles featuring Emily Blunt, Pete Davidson, ScarJo and more

Hollywood strikes bring uncertainty to local businesses as TIFF nears
Denial of responsibility!
Yours Headline is an automatic aggregator of the all world's media. In each content, the hyperlink to the primary source is specified. All trademarks belong to their rightful owners, all materials to their authors. If you are the owner of the content and do not want us to publish your materials, please contact us by email –
[email protected]
. The content will be deleted within 24 hours.