78th over: New Zealand 197-5 (Mitchell 62, Blundell 37) Leach is in for what will surely be his penultimate over of a surprisingly bus day. His first ball yields a single to cover, for Mitchell, after which five dots. The partnership is now 76.
77th over: New Zealand 196-5 (Mitchell 61, Blundell 37) Mitchell taps Overton to leg for one.
There was a sound, but not when the ball passed the bat, and indeed there was no edge.
77th over: New Zealand 195-5 (Mitchell 61, Blundell 36) I said earlier that Overton missed his calling as a crocodile wrestler but forgot to say that, should one ever find onself in a wrestling match with a crocodile, when it tries to roll one, do not under any circumstances try and roll the other way, for this will result in broken bones. Go with the roll, then hope Overton – or Peter Willey – is in the vicinity. If not, similarly, do not try and hold its mouth open for this will not be possible, but do try and hold it shut, and should there be a chase, run zig zag. Anyway, two singles, we learn that DRS is back, then Mitchell misses a leg-side glance and there's an appeal for lbw! It's rejected, and England review!
76th over: New Zealand 193-5 (Mitchell 59, Blundell 36) New Zealand will as cognisant as England that they new rambutan is imminent, and when Leach drops short, Blundell zetzes him through cover for four. His final ball, though, is more testing and Blundell tries to glance it around the corner; Foakes takes it well down leg side and there's a loud shout, but when the umpire says no, no possibility of DRS to check should England have wanted to. I don't think there was bat involved, but.
75th over: New Zealand 189-5 (Mitchell 59, Blundell 32) Overton begins with an inswinger full of length; Mitchell edges into his pads. Two singles follow, Overton diving to save runs when his fifth delivery is hammered back down the ground by Mitchell.
"Perhaps tests should be held in sunny north-east Scotland," emails Mike Rodgers, "it's 25 degrees and sunny here yet again. Our local club, MCC (Methlick Cricket Club) would, I'm sure, allow its ground (Laird's) to be used."
We go again…
"Not sure if you listen to Bob Mortimer and Andy Dawson's surreal, football-adjacent podcast, Athletico Mince," says Simon Harding, "in which Steve McLaren's hair island is an oft mentioned topic."
It's a Jim Robinson/Alan Dale and that's that.
The rain has stopped and play shall resume at 5.35pm BST
Emails Simon Burnton, one of our team at Headingley.
"Funny you mention your powers of Neighbours recall," says Darrien Bold, "as driving down a winding Cornwall road earlier my wife pointed out a bloke who looked like Lou Carpenter and I was straight in there with 'Tom Oliver?'"
Oh well played – though in this case, I'd probably have gone with "Ian Branfoot".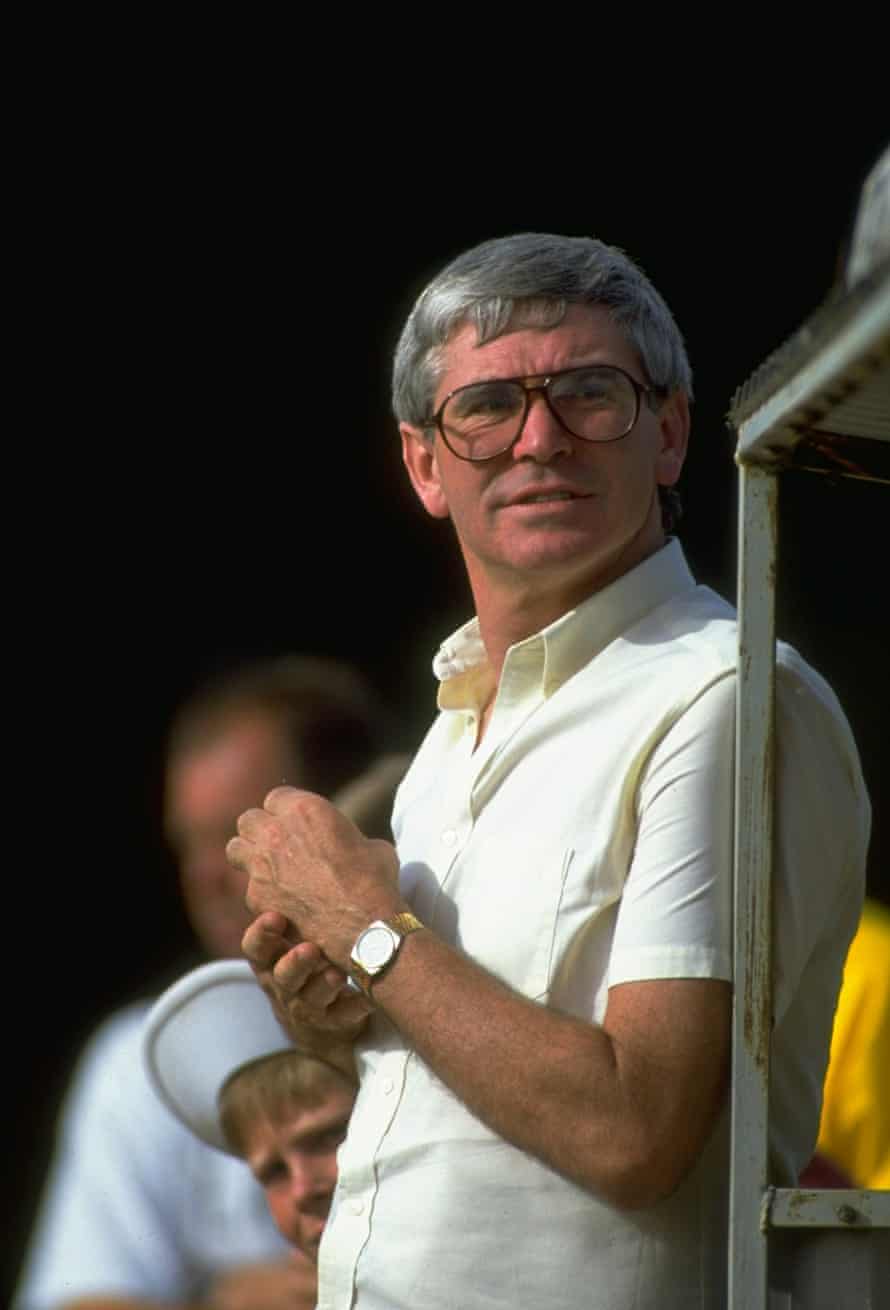 The main covers is on the square, but otherwise it's just tarpaulin on its immediate neighbours. It's still mizzling, but hopefully we'll get more cricket presently.
Talking of Jim Robinson, how many soap characters have a haircut named after them? What people now call a "hair island" is, at least among people I know, referred to as a "Jim Robinson".
"Yes, it was the Bungle Bungles," returns James Debens. "She used to go with Bob Dylan (pictured here, right) and they lived off witchetty grubs and painted portraits of one another. Here's Helen's oil on canvas of Uncle Bobby."
I remember this episode, Mrs Mangel as a Cluedo character – genius.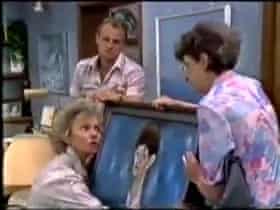 It doesn't look – gulp – "set in" – but given the hour, they'll do well to get back on today.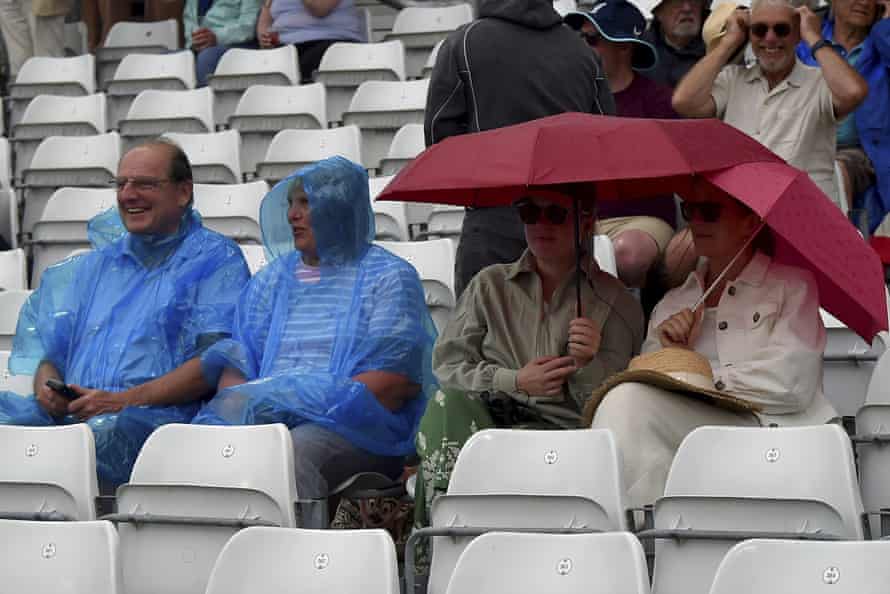 74th over: New Zealand 187-5 (Mitchell 58, Blundell 31) England are just waiting for the new blob now, and Blundell plays out a maiden from Leach, then the players go off for rain.
73rd over: New Zealand 187-5 (Mitchell 58, Blundell 31) Mitchell cracks Overton's first ball hard to the man at midwicket, as we learn that DRS is still down – the little minx etc etc. Three further dots follow, Mitchell making decent connection with he third but picking out the fielder. No matter, he twizzles the next ball to fine leg for four then wears the one after on the pad; there's a shout, but it was above the kneeroll.
73rd over: New Zealand 183-5 (Mitchell 54, Blundell 31) Overton returns, but before he can bowl a ball, the umpires call for drinks because DRS is down.
72nd over: New Zealand 183-5 (Mitchell 54, Blundell 31) Mitchell turns Leach to wide long on and they amble a single, the only run from the over.
"Didn't Helen Daniels off Neighbours used to go and paint in the Bongo Bongos?" wonders James Debens. "Is that a euphemism then? … And is bongo bongo is the old bunga bunga? I remember Frank D'Arcy was this Pan-like figure enticing elderly ladies to the depths of the bush."
Helen went to the Bungle Bungles, I believe. I can remember Neighbours episodes and actors from 35 years ago, not a clue what I had for tea last night.
71st over: New Zealand 182-5 (Mitchell 53, Blundell 31) Blundell defends the final ball of the over.
There was no edge, or at least no spike on the line.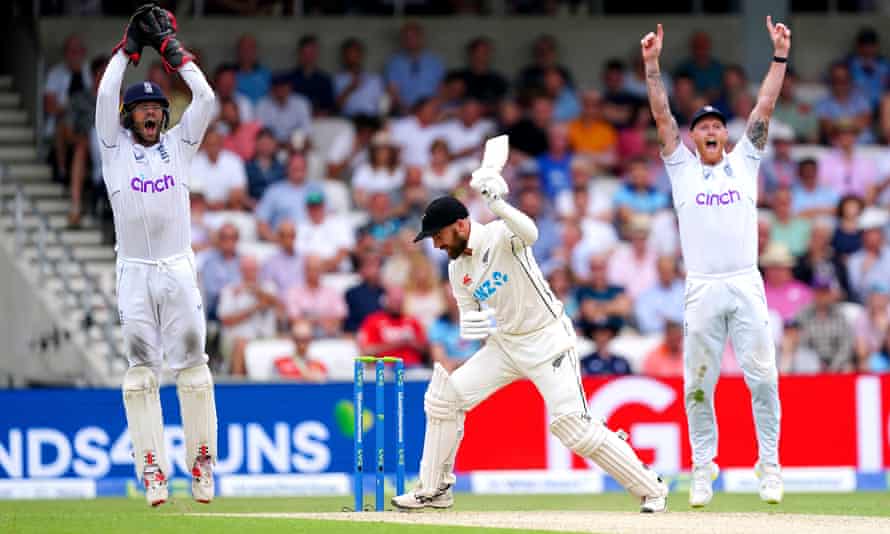 WICKET! Blundell c Foakes b Root 31 (New Zealand 182-5)
Root flings down an arm-ball, Blundell appears to edge behind, and that's gone!
71st over: New Zealand 182-5 (Mitchell 53, Blundell 31) "Oh no!" says Root as sends one outside off, the field set for straight bowling, and Blundell clatters him for four through cover.
"They were always grub-hunters in my day," reports Tom Levesley on daisy cutters. "Which leads me down a path of childhood cricket rules – did anyone else do peg leg to solve an argument about lbw or caught behind? You face the next ball holding the bat upside down and using the handle to play the ball. Survive that and you're not out. Beats the review system any day."
Yup and agree, though our rules were hit it you've got to run one, miss it you've got to run two.
70th over: New Zealand 178-5 (Mitchell 53, Blundell 27) Mitchell bangs one to cover, then skips down and takes it on the pad. There's a big appeal, a long chinwag, and no review, before Overton barrels after a drive to cover and slides to turn four into three. So Mitchell compensates by blocking, then coming down and, knowing there's a long on in place to protect against his favourite shot, he gets outside the ball to tickle Leach for six over long off instead, raising his fifty in the process. He's batted beautifully this series.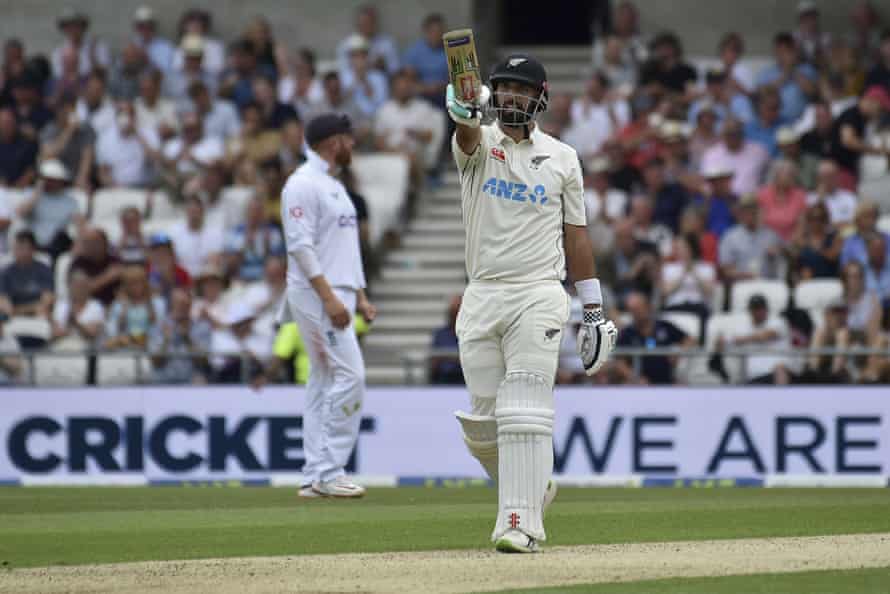 69th over: New Zealand 168-5 (Mitchell 46, Blundell 24) Blundell cuts Root to deep point for three and three singles follow as we see the light reducing and wind kicking up. I'd not be surprised if we saw the rain mentioned on telly earlier, though it's currently six or so minutes late.
"I've been reading the OBO since Day 1," brags Ant Pease. "It remains the only forum in which I ever see bongo referred to almost exclusively as bongo. Are you taken to one side at OBO school and dissuaded from saying — for example — grot?"
You've got to laugh, there's one thing for which we've got house style and it's that.
68th over: New Zealand 162-5 (Mitchell 44, Blundell 20) England are waaay behind the over-rate; might that be why we're seeing spin from baith ends? There's got to be a reason, because this isn't threatening the batters at all, three singles added to the total from this latest Leach over.
67th over: New Zealand 159-5 (Mitchell 43, Blundell 18) Root replaces Broad – maybe he's changing ends – and Blundell strokes him to point for two, then guides one to extra. Again, and as Psychic TV once sung, this is drifting
66th over: New Zealand 156-5 (Mitchell 43, Blundell 15) It's very hard to reconcile New Zealand's running in this series with New Zealand, and when Blundell nudges into the on side, a run that's never there is made nonetheless, because the shy misses. Mitchell does miss a sweep, taking ball on pad and inspiring a strangulated appeal, quickly dismissed, but there's no more scoring in the over.
65th over: New Zealand 154-5 (Mitchell 42, Blundell 14) I dunno, there's a fair chance Stokes knows more about cricket than I do, but it feels like England have wasted their shy at the new man. But Blundell doesn't spot Broad's inswinger, edging into his own thigh – he donkey bites himself – but he reads the next ball which does likewise, presenting the full face and watching the ball hit it as it races away to the long off fence. So England go to the umpire again, this time it won't pass through the ring, and when the change is signalled for, Broad punches air with both fists. There's something not unamusing about a brief case being opened when you can't see the contents, but this appears to contain neither bongo nor Marsellus Wallace's soul, and two dots follow.
64th over: New Zealand 150-5 (Mitchell 42, Blundell 10) Nothing doing despite Stokes' animation, so chances are they'll have to wait until the new ball now. Meantime, Leach is still trundling in and aiming darts; I wish he had the confidence to toss a few more up, and as I type that, Mitchell stomps down, eases onto one knee, and clobbers four through square leg.
63rd over: New Zealand 146-5 (Mitchell 38, Blundell 10) Yup, Broad is back and begins with the loosest of looseners, way outside off. But he gets away with it, sending down a maiden after which Stokes and Bairstow try getting the ball changed.
"This is from Boycott's book On Cricket," says Marcus Abdullahi. "The other side of Botham's nature had become clear in Trinidad during the first Test, when he was larking about around the swimming-pool at the team's hotel. He decided it was very amusing to go around pulling down people's shorts, but as the afternoon wore on his antics took on a violent undertone. Eventually Peter Willey, who is a very tough customer from the North-east, had had enough, so he threw some of Botham's gear into the pool. 'Hey, that's mine,' snapped Botham. 'I know,' said Willey; 'what are you going to do about it?' Guessing that Willey meant business, Botham avoided a head-on confrontation. That represented one of the few occasions when he dodged trouble."
I was talking about Botham just last night, telling my wife – after we'd watched Sanya Richard Ross as per the below – that if he gets into any kind of argument, about anything, he eventually gives it a "And how many Test wickets did you get?"
62nd over: New Zealand 146-5 (Mitchell 38, Blundell 10) Broad is stretching, so I wonder if Stokes isn't quite ready to bowl again; now I've said that, he'll probably plough through 63 overs unchanged between now and the close. But in the meantime, Leach is milked for four as the crowd, nicely oiled, make a racket. I wonder what Brian Close would make of the lad with the trumpet.
61st over: New Zealand 142-5 (Mitchell 35, Blundell 9) Blundell twizzles a single to square leg, then Blundell pokes two to third man and bunts one to mid off.
"Defensive block in the vague direction of one of their weaker fielders," says Jeremy Boyce, "coupled with 'Two there…'"
60th over: New Zealand 138-5 (Mitchell 32, Blundell 8) Four dots from Leach, as we hear the phrase "point of difference" for the infinitieth time today; the third of them yields an appeal when it appears to strike Mitchell's tootsies, but I'm pretty sure it was bat first (because Nasser just said it was). He then reverses two more, and this is drifting a little – I'm not sure why England aren't going harder at the new man.
59th over: New Zealand 136-5 (Mitchell 30, Blundell 8) No, Root continues, and Mitchell knucks his third delivery via reverse, but directly to Leach at backward point. His fifth, though, is pressed to leg and the batters run through for a single.
"I never strayed from defence too often," admits Matt Dony, "but if I was playing further up the pitch and facing my own defenders waiting for a pass, saying 'Close him' to my marker was surprisingly often effective. Freed myself up, and bought space for the inevitable poor first touch."
58th over: New Zealand 135-5 (Mitchell 29, Blundell 8) Blundell is into this right away, and rightly so – he's in nick and despite the five down, this is a decent track. He flicks two to square leg, the only runs off the over, and we learn that rain is 42 minutes away.
57th over: New Zealand 133-5 (Mitchell 29, Blundell 6) Root continues – I'm a little surprised at that with a new batter in – and his first ball is easily despatched for four to midwicket by Blundell. A single follows, then two twos to Mitchell, and that might be thank you Joe.
"I quite liked 'ankle smasher' myself, says Jeremy Boyce of daisy cutters, "but actually 'fast ball bowled on municipal pitch' might also apply – although this might also be true of the one that blacks your eye. But what about the one that hits you on the inner thigh? What are the different expressions for this And has anyone else had the same joy as I have, playing social cricket and being passed an already sweaty box by the outgoing batsman as you go out to bat, because we've only got 2 for the whole team. Unless you have a personal one."
Inside thigh is a donkey bite, or was when we went through a phase of grabbing each other's in school. And yes, I have indeed shared a box.
56th over: New Zealand 124-5 (Mitchell 25, Blundell 1) Blundell has batted well in the series and I'm not sure he'll let Leach bowl in the way of those above him; he's got four balls to survive from the over that began before tea, and he strokes the third of them for a single to point.
"The best sledges are always pre-performance sledges," says Robert Wilson. "You walk in to bat in borrowed kit and baseball boots against a relatively tasty quick. You scratch your mark, stretch and take guard under the judgemental gaze of some chubby and malicious baldy standing at a contemptuously close cover who loudly bellows 'Easy does it, Bill/Jim/Mo, on the stumps please, this hopeless tw*t can't protect hisself' to gales of disobliging laughter. Naturally that first ball up ALWAYS zipped past your ears in a roguish manner. Those first thirty seconds or so were always when the real poets of sledging did their finest work."
Tea-time email: "Just two words to add to the Royal Rumble discussion: Brian and Close," reminds Geoff Wignall.
Yes, fair enough – one of those you know could give you a pasting just by looking at his face, even when he was into his 80s. I remember reading that when he was first picked by England he was in the middle of some kind of army punishment – he's one of those hard blokes who's as good at enduring pain as dispensing it.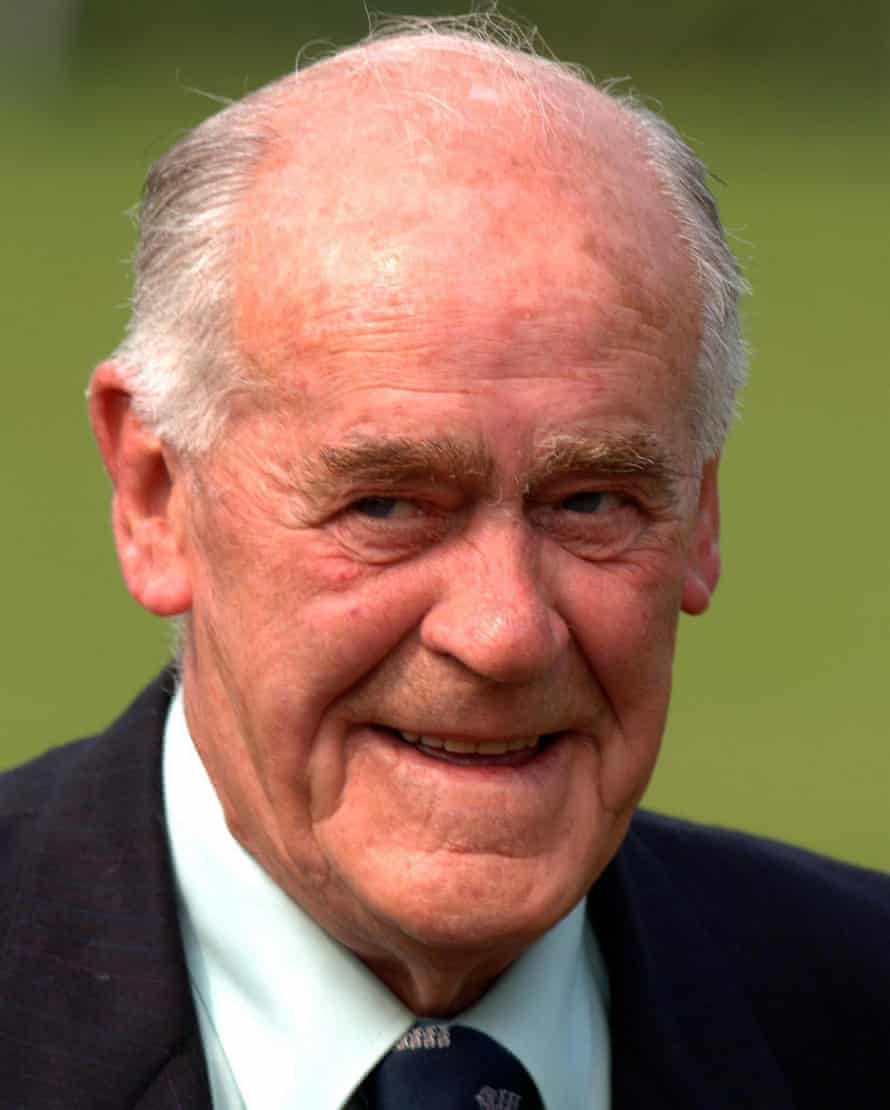 And that is tea! England are bang in charge; New Zealand are fighting to keep head above broon. see you presently for what promises to be yet another brilliant session.
WICKET! Nicholls c Lees b Leach 19 (New Zealand 123-5)
HAVE – A – LOOK! Just when you think you've seen it all, you realise you've seen nowt! Nicholls comes down, drives hard, straight at Mitchell … who tries to move his bat out the road but instead middles a drive directly to mid on! I've never seen anything like that, and I guess yiu've got to congratulate Ben Stokes for keeping Leach going and offering the big shot in the over before tea. But really, what a carry-on!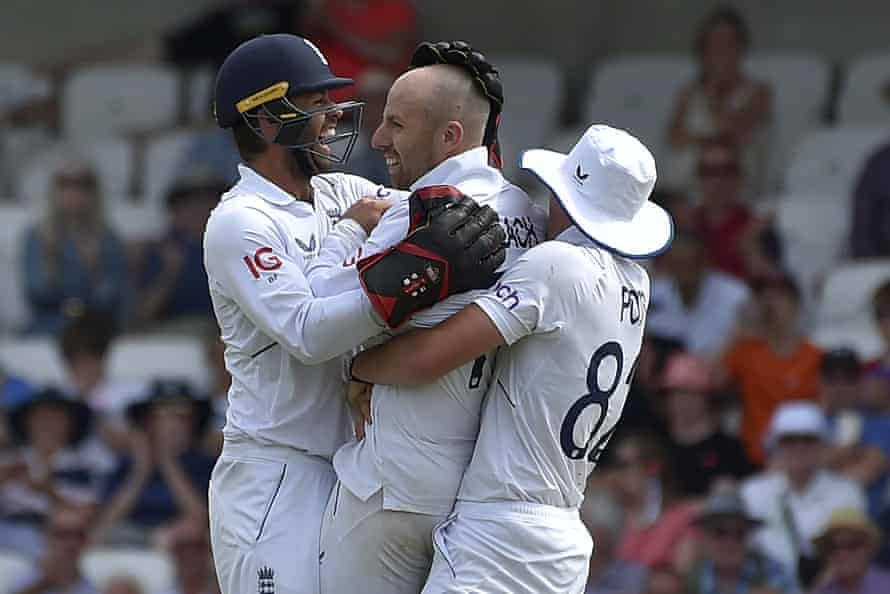 55th over: New Zealand 123-4 (Nicholls 19, Mitchell 25) Yup, that was Pottz's last over, with Root down to try a twiddle before tea – have a go saying that after a

day
session on the Western Terrace. Anyway, Nicholls takes one to mid on, then Mitchell sweeps two, and there'll be time for one more over before tea.
As soon as I hit launch I remembered it was Gooch out handled ball, and here's Martin Crookall putting me in my place: "Not Mike Atherton with the Handled the Ball but Mike Vaughan. And before that, Graham Gooch at Old Trafford, in the Test when Shane Warne bowled THAT ball, facing Mervyn Hughes and sweeping the ball away with hisforearm before it fell on his wicket, which I only bring up so I can point out that I was there to actually see that one…"
54th over: New Zealand 120-4 (Nicholls 18, Mitchell 23) Credit to Stokes for keeping Leach going – there's little more inspirational than knowing people believe in you – the two most important words are "well done" said the greatest HR man of all-time, Alex Ferguson, and letting someone do their thing is a tacit way of doing exactly that. Anyhow, the captain is rewarded with another tight over, Nicholls pushing to long on for the only run from it.
53rd over: New Zealand 119-4 (Nicholls 17, Mitchell 23) This is the fourth over of Potts' spell; I wonder if it might be his last, as it's pretty hot in Leeds and he flings every ounce of himself into every delivery. England would love another wicket here – they're in charge, but break this partnership and they're thinking all out 250 at worst. They've to make do with another maide.
"Re the all-time England Cricket Royal Rumble," offers Ewan Glenton, "I'd back Peter Willey against most comers; I'm sure I remember something about him being the only one Ian Botham was scared of, and in some dressing room horseplay 'Willey soon overpowered the beefy all-rounder' is a sentence that stuck in my mind decades ago."
Yes, that's certainly his reputation – it's great, and terrifying, when the ones who don't look nails are. Jockeys, for example.
52nd over: New Zealand 119-4 (Nicholls 17, Mitchell 23) Leach continues and deceives Nicholls with a quicker one, part of his fifth maiden of the day.
"I always preferred worm-burner myself," says Andrew Benzeval on daisy-cutter synonyms, "subterranean and therefore even worse than the pea roller."
And a far more evocative image.
51st over: New Zealand 119-4 (Nicholls 17, Mitchell 23) Potts has the look of a straight-down-the-line cop in a US TV series, the bloke who never solves the case but is there when someone else does, then goes to the celebration and has a Coke. Anyhow, Nicholls turns an inswinger to square leg where Overton misfields, and they take a single – the only run from the over.
"Shouting 'MINE' after skying one while jogging down to non-striker's end, watching a nervy fielder get underneath it," offers Alex McGillivray.
I love that one. Tangentially, as a kid I was once handed a going-over after top-edging one, then elbowing it into the pitch before the fielder could collect his dolly. I think it was after someone, Atherton I think, was given out for swiping the ball away from his stumps with his hand.
50th over: New Zealand 118-4 (Nicholls 16, Mitchell 23) If I'm brutal, I'm surprised it's taken this long, and right as Sanga says Leach's figures are better than they should be, Mitchel twinkles down and larrups him back over his barnet and into the stand. He responds with five dots, though, and I wonder whether Stokes will keep him on hoping for a miscue now the batters' policy has changed, or give one of his quicks – himself perhaps – a run before tea.
49th over: New Zealand 112-4 (Nicholls 17, Mitchell 16) Look at Henry Nicholls! He drives Potts' first ball straight back past him for four, his first boundary! That'll make him feel a lot better, and after seeing away four dots he hauls a pull from outside off towards the midwicket fence; good work from Lees turns four into two.
"I occasionally got to fill in for my brother," says

Jamie Overton
John Sims, "who played with a team that regularly used the wonderful ground at Harwood House north of Leeds. I always tried to bat at 12 or lower, based on the terror induced by a broad Yorkshire accent from behind the stumps or in the slip cordon suggesting, 'I wouldn't bother taking your guard, mate. We've no idea where it's landing either.' They would then proceed to dive for cover as the first ball was bowled, and often I would be too in the confusion of the daisy-cutter finally trundling into my undefended middle stump."
Daisy cutter is a great term, I've not had that in years. Pea roller is another, what else have we got?
48th over: New Zealand 106-4 (Nicholls 17, Mitchell 10) Mitchell turns Leach around the corner to the rope at deep backward square, then reverses him through backward point for four more. Nevertheless, I wonder if this innings might represent a breakthrough for Leach who, so far in his Test career, has been largely unable to hold down an end in first inningseseseses. I doubt he's got many more chances, so he needs to make that so.
"The opponents of my son's U11 team would shout out 'nervous batsman' when they realised this was the case," emails James Orwell, "thus exacerbating the condition considerably…."
Lovely stuff. I used to do similar on the football pitch – when the ball went to a defender who ddn't want it, I'd be right there with the "Look at him, he doesn't want it!"
47th over: New Zealand 98-4 (Nicholls 10, Mitchell 9) Potts gets his first go downhill from the Kirkstall Lane and after Mitchell takes a single, a full one nails Mitchell low on the pad! The bowler likes it a lot, but his captain looks to his keeper and between them they reckon it's going down. I can see why because it's slanting in, but impact looked pretty dead to my useless eyes. Goodness me, it is! Middle and leg, two-thirds of the way up where the mezuzah would be, and poor old Pottsy/Potty/Potts has been robbed of a Test wicket!
46th over: New Zealand 97-4 (Nicholls 10, Mitchell 8) Nicholls tries another sweep and gets naewhere – he's be the world's worst curler – then nudges a single into the on side. Leech finds a better delivery next, appealing when Mitchell presents the pad, but an edge preceded contact and he gets down t'other end when Stokes misfields at mid on. Talking of which, this used to be a favourite of a mate of mine, calling "misfield" right before the ball was picked up; I also like a shouted "thank you firstname" to a bowler who's taken some tap. Any more for any more?
45th over: New Zealand 95-4 (Nicholls 9, Mitchell 7) Overton begins his 11th over as a Test cricketer with two bumpers; Nicholls evades them easily enough, so after a step-up in pace which is played back towards him, he tries things from around; Nicholls pulls past the dive of Stokes at square leg for one
44th over: New Zealand 94-4 (Nicholls 8, Mitchell 7) Nicholls bunts Leach to long on for a single – he's motoring now! – and it's the only run from the over. Thinking again about Overton Minor, I think I'd back him in an England squad Royal Rumble; I think he'd do well in an all-time one, too.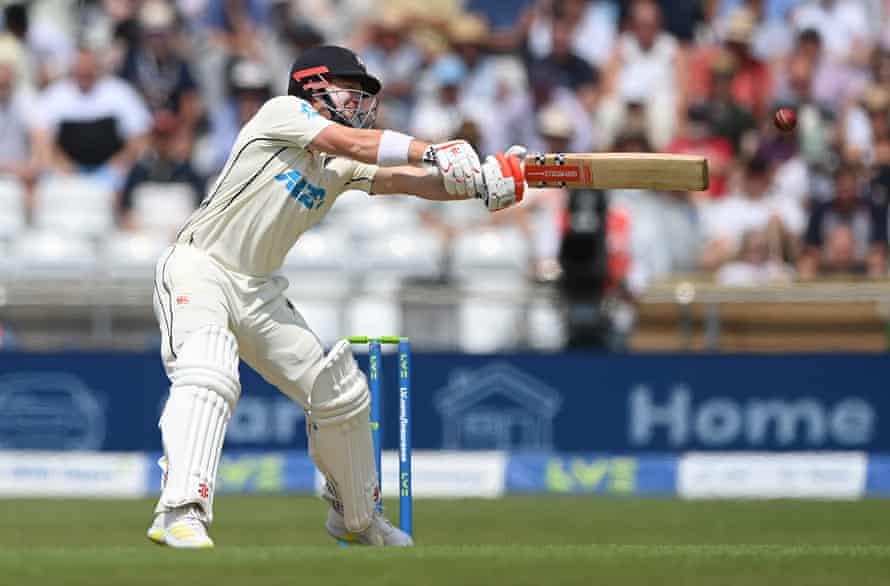 Denial of responsibility!
Yours Headline is an automatic aggregator of the all world's media. In each content, the hyperlink to the primary source is specified. All trademarks belong to their rightful owners, all materials to their authors. If you are the owner of the content and do not want us to publish your materials, please contact us by email –
[email protected]
. The content will be deleted within 24 hours.