Australian Open 2022 day six: Rublev v Cilic; De Minaur and Swiatek win – live! | Sport
12:05
Pavlyuchenkova has levelled against Sorana Cirstea, winning the second set 6-2 – but the Romanian has broken to lead the decider 2-0! A few more twists and turns to come there, I'll wager.
12:04
Third set: Rublev 5-7, 6-7 (3), 4-3* Cilic (*denotes next server) Terrific hustle from Rublev, who could easily be 5-1 down. He backs it up with an impressive hold, able to get into the net and outwork Cilic before sealing with an ace. Has the momentum unexpectedly shifted?
12:02
Third set: Rublev 5-7, 6-7 (3), 3-3* Cilic (*denotes next server) Rublev finally gets some joy on the Cilic serve, finding two testing returns and turning a 30-15 deficit into a break point. On second serve, he converts as Cilic sends a forehand into the net!
11:59
In the other game still going on, Pavlyuchenkova leads Cirstea 5-2 in the second set, after the Romanian won the first. The local wildlife is causing disruption, with Pavlyuchenkova accidentally squashing a bug and Cirstea distracted by Melbourne's famous seagulls, perched up on the rafters.
11:57
Third set: Rublev 5-7, 6-7 (3), 2-3* Cilic (*denotes next server) Rublev is wilting here; he is getting virtually nothing for free from Cilic, every loose shot punished. Another dominant rally brings up a double break point, and a Rublev forehand that lands in, much to his relief. A couple of big first serves get him out of trouble.
Updated

11:52
Third set: Rublev 5-7, 6-7 (3), *1-3 Cilic (*denotes next server) A key stat in this battle of big serves: Cilic has won 31 receiving points to Rublev's 14. The Russian doesn't add to his tally here, an aggressive return going long and a 17th ace sealing the deal.
Updated

11:50
Third set: Rublev 5-7, 6-7 (3), 1-2* Cilic (*denotes next server) Cilic senses this is his moment, and as Rublev's serve falters he is there to pounce, sending back any short stuff with interest and earning two more break points. This time he takes it, another attacking return doing the job as Rublev finds the net.
Updated

11:47
Third set: Rublev 5-7, 6-7 (3), *1-1 Cilic (*denotes next server) Rublev has to find some way to shake Cilic out of his rhythm on serve. He lands one return winner here, but he's already 40-0 down, and Cilic promptly lands another ace.
Updated

11:43
Third set: Rublev 5-7, 6-7 (3), 1-0* Cilic (*denotes next server) Cilic stays on the attack, still finding clean winners – 37 to Rublev's 24. Three break points come and go, Rublev finding enough on serve each time, and he digs out a vital hold.
Updated

11:37
This has been really impressive from Cilic so far, while Rublev has played within himself. There's better news for his fellow Olympian; Pavlyuchenkova has broken Cirstea to lead in the second set as she looks to level the match.
11:35
Marin Cilic wins the second-set tie-break 7-3! The Croatian looks the stronger player now, picking off another Rublev service point – but an unforced error lets the Russian back in. A big moment a 5-3 – and Cilic fires down a 213kph serve! Set point, and an unstoppable forehand, whipped into the corner of the court, puts him 2-0 up.
Updated

11:32
Second set tiebreak: Rublev 2-4 Cilic Marin Cilic just misses the baseline with another fierce return, but the next one does the trick as Rublev nets. Cilic whips an immaculate forehand across court, and responds to an excellent Rublev return before taking charge of the next rally. Rublev gets a point back on serve, but his opponent is in control at the change of ends.
11:28
Sorana Cirstea wins the first set 6-3! An upset brewing on Rod Laver as Cirstea serves out the first set in style against the No 10 seed, Anastasia Pavlyuchenkova.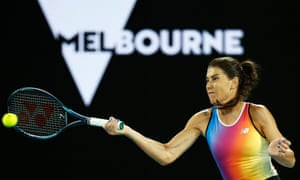 Updated

11:28
Second set: Rublev 5-7, 6-6* Cilic (*denotes next server) Cilic on the attack again, walloping a forehand and then smashing back a return on second serve. 15-30, but he snatches at a cross-court shot. Maybe a touch too aggressive, and Rublev digs in to hold. Tie break time!
11:24
Second set: Rublev 5-7, *5-6 Cilic (*denotes next server) Another pair of aces, including one that catches the very edge of the line down the middle. An easy hold; can he snatch another set before the tie break?
Elsewhere, Cirstea has regained the advantage in the first set, and now leads 5-2 with Pavlyuchenkova serving to stay in the set. Iga Swiatek awaits the winner.
11:21
Second set: Rublev 5-7, 5-5* Cilic (*denotes next server) A brutal, 59-second hold to love from Rublev, with the Russian up to nine aces, compared to Cilic's 12.
11:18
Second set: Rublev 5-7, *4-5 Cilic (*denotes next server) Cilic drops the first point, which counts as a chance in this serve-heavy battle. He fires down three unreturnable first serves, and then when Rublev gets into a rally, produces some outrageous pace to win the game. He's looking very solid out there.
11:16
Second set: Rublev 5-7, 4-4* Cilic (*denotes next server) Rublev holds with little fuss, a spinning second serve getting the job done as Cilic nets his return.
On Rod Laver, Sorana Cirstea got an early break but she's been pegged back, with Pavyluchenkova back on serve in a first set briefly interrupted by a freakishly large insect strutting across the court.
11:14
Here's Tumaini Carayol on Dan Evans' defeat to Félix Auger-Aliassime. The last British singles player standing admitted he "panicked a bit" as the game rapidly got away from him.
11:12
Second set: Rublev 5-7, *3-4 Cilic (*denotes next server) Cilic whips a forehand onto the baseline and follows in to clip a cross-court volley out of Rublev's reach. Other than that, it's big serves aplenty, another ace sealing the hold.
11:09
Second set: Rublev 5-7, 3-3* Cilic (*denotes next server) Rublev has been vulnerable on second serve – winning just four of 12 points – so a flurry of three aces is welcome here as he holds to love, finishing with a backhand down the line.
Updated

11:06
Second set: Rublev 5-7, *2-3 Cilic (*denotes next server) Cilic hasn't made the fourth round at a slam for two years, but has come close to some big wins. He lost in five sets to Daniil Medvedev at Wimbledon, and in four to Roger Federer at Roland Garros. Here, Rublev rallies to 40-30 down, then plays entirely the wrong shot, a mistimed effort apologetically finding the net.
Updated

11:02
Second set: Rublev 5-7, 2-2* Cilic (*denotes next server) Cilic goes for broke at 30-0 down, swinging and missing with an attempted winner on the Rublev second serve. The Russian closes out with an ace.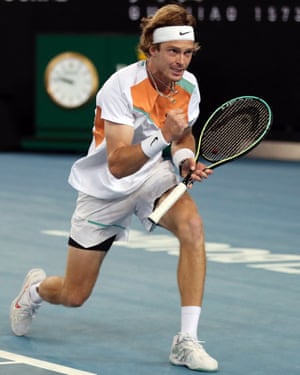 Updated

11:00
Second set: Rublev 5-7, *1-2 Cilic (*denotes next server) Rublev has shown a recent tendency to falter against tricky opponents at slams; he hasn't reached a quarter-final since losing to Medvedev here last year, losing to Marton Fucsovics at Wimbledon and Frances Tiafoe in New York. He can't make a dent on the imperious Cilic serve here.
10:56
Second set: Rublev 5-7, 1-1* Cilic (*denotes next server) Rublev powers to 40-0, makes a mess of a drop shot that lands an inch in front of him, then goes back to basics with a bomming ace.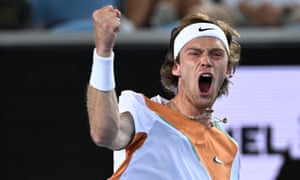 Updated

10:54
Second set: Rublev 5-7, *0-1 Cilic (*denotes next server) Time to go game-by-game, and Cilic makes a solid start to the second set, big serves backed by clinical groundstrokes as he holds to 15.
10:51
Over on Rod Laver Arena, Anastasia Pavlyuchenkova – who won Olympic gold in Tokyo alongside Rublev in the mixed doubles – is warming up before her match with Sorana Cirstea. We'll keep you updated on the early stages of that match.
10:49
Marin Cilic wins the first set 7-5! Andrey Rublev got back on serve but with the first set seemingly headed for a tie-break, Cilic gets a chance at break point – and a hefty return forces Rublev to go long with a forehand! The former finalist takes the first set.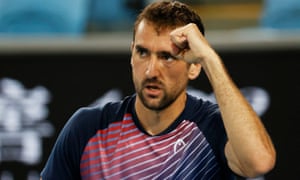 Updated

10:37
Alex De Minaur speaks to Jim Courier: "Pretty exciting to play on Rod Laver, in front of the great Rod Laver himself! It's a pretty amazing feeling. What more can I ask for? I love playing here, there's no place I'd rather be."
They show a clip of him trail running with his golden retriever, Enzo, and then ask for his thoughts on his next opponent, Jannik Sinner. "A lot of firepower, he's a hell of a player – I'm just looking forward to it, another opportunity to come out here and do what I love."
10:32
Alex De Minaur beats Pablo Andújar 6-4, 6-4, 6-2!
De Minaur fires down two aces, the second a 200kph scorcher – but then Andujar drills a backhand winner and soaks up the crowd's applause. De Minaur bangs down another ace, though, and produces a second serve that Andujar can't return. The Australian men's No 1 is into the fourth round for the first time, after a dominant, impressive display.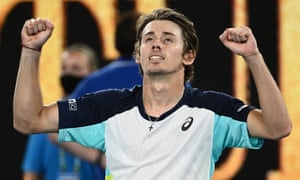 Updated

10:28
De Minaur breaks again! Andujar may be running out of ideas, getting bossed in a couple of rallies here and broken again as an ambitious backhand winner misses the line. De Minaur will serve for the match, with Rod Laver and Lleyton Hewitt watching on.
10:26
No sign of nerves from Alex De Minaur as he holds serve to move two games away. The crowd on Rod Laver Arena are backing their man, but it's been good-natured with plenty of appreciation for Andujar too. The "siuuus" are still there, but thankfully much less frequent.
10:21
Andrey Rublev v Marin Cilic is under way, with the Croatian former finalist a dangerous opponent for the No 5 seed. It's Cilic who has made the stronger start, breaking in the fourth game to lead 3-1.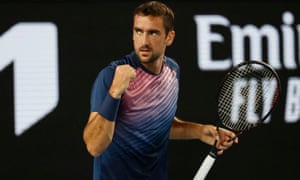 Updated

10:19
De Minaur goes on the attack in the next Andujar service game, and earns two break points after outlasting his opponent in a baseline battle. Andujar feels the pressure at last, double faulting to surrender his serve. Alex De Minaur is three games from the fourth round!
10:14
Pablo Andujar isn't going away quietly, still making his opponent work for every hold of serve. De Minaur wrongfoots him with a backhand that skids down the line, then belts an ace down the middle. It's 2-2 in the third, with De Minaur leading by two sets to love.
10:12
Sunday schedule
The order of play for day seven is out, and it's a belter. Here are the singles matches to look out for:
Rod Laver Arena
Day session (11am local/12am GMT)
Madison Keys v Paula Badosa (8)
(4) Barbora Krejcikova v Victoria Azarenka (24)
Adrian Mannarino v Rafael Nadal (6)
Night session (7pm local/8am GMT)
(1) Ash Barty v Amanda Anisimova
(19) Pablo Carreño Busta v Matteo Berrettini (7)
Margaret Court Arena
From 1pm local/2am GMT
(21) Jessica Pegula v Maria Sakkari (5)
(3) Alexander Zverev v Denis Shapovalov (14)
John Cain Arena
From 6.30pm local/7.30am GMT
Miomir Kecmanovic v Gaël Monfils (17)
10:05
Jannik Sinner beats Taro Daniel 6-4, 1-6, 6-3, 6-1! It was a real battle for the first three sets before the Italian pulled away. He'll play the winner of De Minaur v Andujar next – whatever happens, both players will be making their fourth-round debuts at Melbourne Park.
09:54
Alex De Minaur wins the second set, leads 2-0! The early break proves enough as the Australian serves out the second set despite some bendy-limbed resistance from Andujar. De Minaur finds a big second serve at 40-30, and his opponent nets a forehand.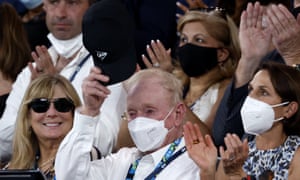 Updated

09:52
Iga Swiatek: "That was really intense – she plays top spin, and has the same grip to mine. At the end, the rallies were pretty long, it was just about getting the ball over the net!" She's asked if she will watch Cirstea v Pavlyuchenkova to see her next opponent will be. "I try to stay focused and not look at the draw, so I didn't even know!" she says. "My coach will probably watch it."
09:47
Iga Swiatek beats Daria Kasatkina 6-2, 6-3!
Iga Swiatek has the chance to serve out, and wobbles to 30-all before forcing an error from her opponent through brute force. Match point, and she hangs in the next rally before Kasatkina nets a forehand. Job done!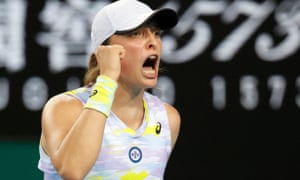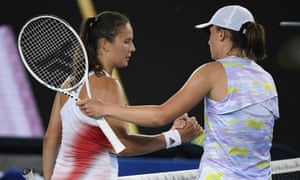 Updated

09:39
It's all going to plan for Alex De Minaur as he chases a first-ever place in the last 16 here. He's broken Pablo Andujar and leads 4-2 in the second, and by a set to love.
And perhaps I wrote off Daria Kasatkina at the right time after all – a couple of loose points allow Swiatek to break again, and the No 7 seed powers to a love hold. She's now 5-2 up in the second, one game from victory.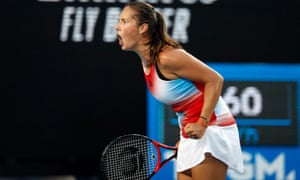 Updated

09:33
Jannik Sinner appears to have regained control of his tussle with Taro Daniel – after taking the third set 6-3, the Italian breaks early in the fourth and leads 2-0. I can't see it just now, because Eurosport 2 has switched to live skiing. Oh Eurosport. Never change!
Updated

09:31
Perhaps I wrote Daria Kasatkina off too soon – the Russian has broken back and levelled the second set at 2-2. She has break points in the fifth game too, but Swiatek digs out an ace and prevails in a bruising rally to stay on serve.
09:11
De Minaur wins the first set 6-4! The home hopeful makes a rocky start, slipping 0-30 down – but he fights back and earns a set point when Andujar sends an ambitious slice wide. He seals the set as his opponent nets, following some trademark baseline defence from the Aussie.
Already a set up on Daria Kasatkina, Iga Swiatek is now a break up in the second, and already just four games from victory.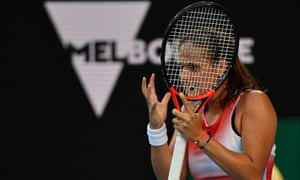 Updated

09:06
De Minaur has hit 10 winners to Andujar's one, and is putting pressure on the Spaniard as he serves to stay in the set. Andujar, who's making his first ever third-round appearance in Melbourne, digs in to hold, and trails 5-4.
Over on the Kia Arena, Taro Daniel and Jannik Sinner are locked at one set all, and 3-3 in the third. The winners of these two matches meet in the fourth round.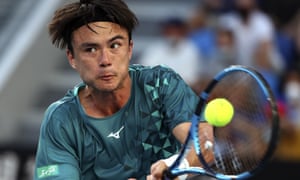 Updated

09:00
Iga Swiatek wins the first set! She breaks Kasatkina again, firing a winner down the line to clinch it 6-2. She's halfway to booking a fourth-round meeting with either Cirstea or Pavlyuchenkova.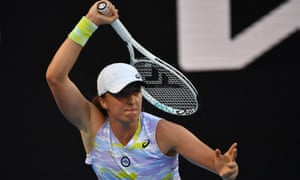 Updated

08:56
Alex De Minaur has broken Andujar for a second time – and this time backs up the break, coming in to the net to close out with a volley. His friend and mentor, Lleyton Hewitt, nods approvingly in the stands. De Minaur leads 5-3 in the first set.
08:53
After easing into the fourth round earlier, Daniil Medvedev looked to build bridges with the home crowd after hitting out at "low IQ" fans shouting during his previous win over Nick Kyrgios.
"I was hoping you were going to be a bit easier on me guys," the No 2 seed said after his win over Botic van de Zandschulp. "I'll put it this way, it's a little easier to play a guy from the Netherlands than a guy from Australia in Melbourne."
"I think every good relationship has it's ups and down but it's good," the Russian told the Margaret Court Arena crowd. "It's entertaining, it's real. It's not like 'hi guys, okay, whatever, I'll see you next time', there is some relationship going on."
"Hopefully I can come many more years here. As I say, I don't think it'll only be good ones but I hope it'll be more good times than bad ones, otherwise it won't work."
Updated

08:43
Over on the Margaret Court Arena, Iga Swiatek has an early break against Russia's Daria Kasatkina, who has missed break chances of her own. The No 7 seed leads 4-1.
Taro Daniel has taken the second set off Sinner, 6-1, while it's already developed into a baseline slugfest between Andújar and De Minaur, with the first set still on serve.
08:37
Six players have made it through to the women's last 16 so far on Saturday. They include Simona Halep, who was too strong for Danka Kovinic, unable to repeat her heroics against Emma Raducanu in the second round.
No 2 seed Aryna Sabalenka came back from a set down to win for the third match in a row, getting the better of former French Open finalist Marketa Vondrousova. Danielle Collins also fought back to win an epic battle with rising star Clara Tauson.
Kaia Kanepi also dropped the first set but recovered to end the run of Aussie wildcard Maddison Inglis, and Alize Cornet got the better of Tamara Zidansek in a near three-hour encounter. Elise Mertens, the No 19 seed, took just over an hour to see off China's Zhang Shuai.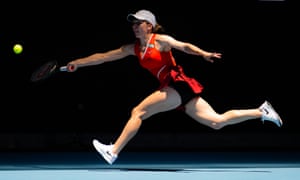 Updated

08:30
Alex De Minaur is up and running on Rod Laver, breaking Andújar in the first game – but the Spaniard quickly earns a chance to break straight back, and outmuscles his opponent in an early rally to level.
Elsewhere Taro Daniel, the conqueror of Andy Murray, lost the first set to rising star Jannik Sinner, but leads 4-0 in the second.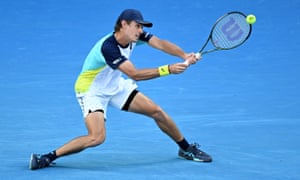 Updated

08:25
So, what's been happening overnight? In the men's draw, Daniil Medvedev eased past Botic van de Zandschulp in straight sets and Stefanos Tsitsipas got through in four sets against Benoît Paire.
Taylor Fritz edged out Roberto Bautista Agut in a five-set battle, fighting back from 2-1 down. He's joined by compatriot Maxime Cressy in the last 16, the world No 70 ending the run of Aussie wildcard Chris O'Connell in four sets.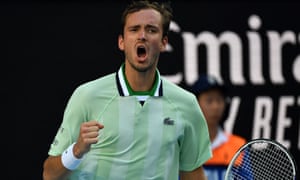 Updated

08:10
Félix Auger-Aliassime beats Dan Evans in straight sets
British hopes in the singles draws are over, with Dan Evans well beaten by Canada's Félix Auger-Aliassime, who wrapped up a 6-4, 6-1, 6-1 win moments ago. It was a decent scrap in the first set, before the No 9 seed pulled away in style. He'll face Rublev or Cilic in the next round.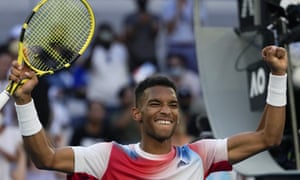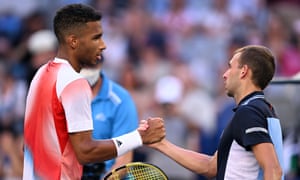 Updated

08:07
Preamble
Hello. Home fans have been waiting since 1978 for an Australian singles champion in either of the showpiece events at their home slam, and while all the expectation is on Ash Barty, the women's world No 1, they still have a dark horse left in the men's draw.
Alex De Minaur kicks off the evening session on Rod Laver Arena against wily Spanish veteran Pablo Andújar. After that, women's No 10 seed and three-time Melbourne quarter-finalist Anastasia Pavlyuchenkova takes on a tricky unseeded opponent in Romania's Sorana Cirstea.
Elsewhere, former French Open champ Iga Swiatek will look to show her title credentials against Daria Kasatkina, before what could be a classic, heavy-hitting encounter between Andrey Rublev and Marin Cilic. Stay tuned.
Updated

Denial of responsibility!
Yours Headline is an automatic aggregator of the all world's media. In each content, the hyperlink to the primary source is specified. All trademarks belong to their rightful owners, all materials to their authors. If you are the owner of the content and do not want us to publish your materials, please contact us by email –
[email protected]
. The content will be deleted within 24 hours.