The Basques have Juan Mari and Elena Arzak, the Catalans Ferran Adrià, and Andalucía has "el Chef del Mar" Ángel León – chefs who have put their region's cuisine on the world food map.
The 46-year-old León is a celebrity in Spain. His fascination with sea rice and fish scales and his restaurant Aponiente in El Puerto de Santa María have attracted attention to the Costa de la Luz. It is the only restaurant in Andalucía to hold three Michelin stars and has made people think again about the town on the Cádiz coast that, until recently, could best be described as "faded".
Perhaps efecto Ángel León is responsible for the recent proliferation of competitively good restaurants and beach clubs. Whatever the cause, the northern half of the Costa de la Luz – the 50-mile string of traditional seaside towns running from Sanlúcar de Barrameda south to Cádiz and on to Chiclana de la Frontera and Conil – is very much de moda.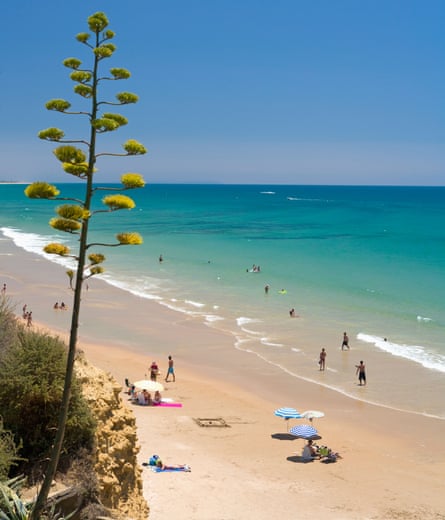 "The gastronomy here has become more cosmopolitan since Aponiente opened," says León. "Ceviches, tataki, tartars everywhere … although innovative new restaurants are keeping the essence of the traditional seafood classics alive too." León is also credited with a renewed interest in products that were considered "low value" like sardines and mackerel.
With its wide, pale sand beaches backed by pinsapar (Spanish fir) forests, this coast has always been a prime holiday destination for Spanish families. From Sanlúcar to Conil there are more blue flags – 26 – than anywhere in Andalucía. But it has remained below the radar for foreign visitors who visit Sanlúcar and Cádiz, then leave – often for Vejer and Tarifa with their dunes and cosmopolitan communities further south. Or the Costa del Sol.
In Chipiona, a 15-minute drive south of Sanlúcar, a white wood and glass box, Awa, at the foot of Spain's tallest lighthouse on Playa de Regla, exemplifies the area's new style of chiringuito (beach bar). The 19th-century Sanatorio de Santa Clara, visible further along the sand, is a reminder that poor children used to be brought here for the beneficially high iodine content of the water. Now people come for Awa's sea anemones on guacamole with turmeric and soy-cured egg yolk. When Borja Ramos opened it in 2018, he said: "The revolution has arrived in my town, with something more innovative … The rest will be forced to improve."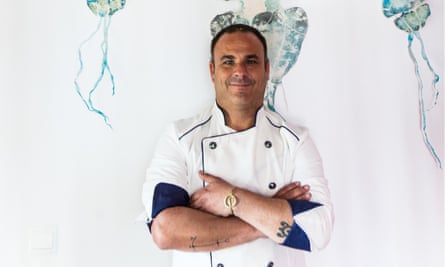 They have in a way: there's hardly a rickety table, plastic chair or €2.50 plate of fried dogfish to be found on this coast today; they've been replaced by stylish beach bars with Balinese beds serving artfully presented Asian-influenced seafood.
There's still variety: Chipiona's Playa de las Tres Piedras has the full gamut from cool with cocktails to Hawaiian surfer vibe. The top choice is La Manuela Cocina Copas, for its high-end beach fare (langoustine gyozas, lots of tuna) and its joyful white-and-blue building, natural wood and thatch.
It's the same story at Aponiente, further south down the coast on the outskirts of El Puerto. Standing in marshes, the 19th-century tidal mill looks like a film set and is a magnet for food critics and top chefs from around the world.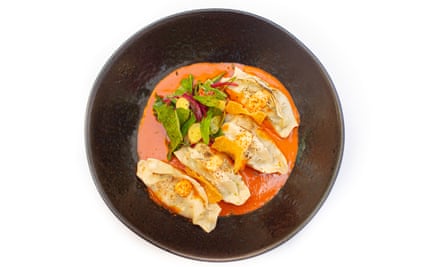 When Alain Ducasse came to this coast, he ate at La Taberna del Chef del Mar, owned by León and run by his wife, Marta Girón. It's a play on the Aponiente theme, scaled down to match the tastes and budget of normal folk. The menu includes some classics – plankton risotto (€27) and marine charcuterie (€24) – and some gastronomic japes – patatas bravas that are really red prawns, jamón that is really dried tuna. Tucked up a sidestreet (Calle Puerto Escondido, 6), it's edgy and fun-looking outside, with basic tables and a black skull'n'fish bones logo, but craftily sophisticated inside – like the food.
Right opposite, in a 17th-century house and courtyard, chef Pablo Terrón runs the relaxed and eclectically stylish Puerto Escondido. The menu is full of exciting surprises, many raw, fresh and sharp, like the marinated fish served on a half lime (€3.50).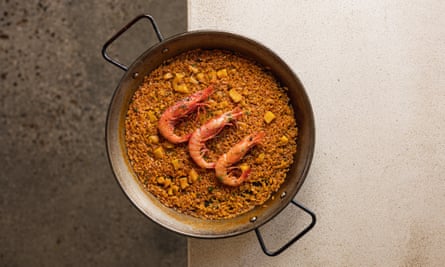 Around the corner, on the lovely Calle Ribera del Marisco, is Los Portales, a venerable restaurant for formal dining and magnificent interiors, and the elegant Avanico, opened last year by Fran Oliva, a local chef returned from Jeréz. The tartar de carabinero con erizo del mar (€10.50) is not to be missed.
A 10-minute walk along the Guadalete River is Tohqa (Calle Los Moros, 4), run by the Pérez brothers. Housed in a former convent with leafy courtyard and punky street-art-style murals, they offer two fascinating tasting menus (€55 and €80) ending in a trademark dessert of onion and cream.
Further along again, above Vistahermosa beach, there's Ramé, set up by three friends in their 20s (including the chef Javi Navarro, who has worked at Akelarre and Can Roca), marooned here by the pandemic.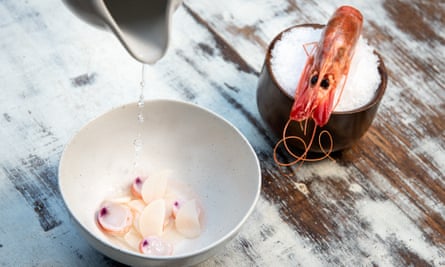 "There's undoubtably an Ángel León effect," says Terrón, "but there are several factors behind the rise in the number and quality of restaurants, along with more people discovering the stretch of coast and its great climate and produce."
He's one of a number of young gaditano chefs returning home with skills embellished by working away. "I'm from El Puerto. I spent 12 years working in Madrid, Peru, Mexico, France … And then I came home. I wanted to help raise up my town."
As the town's mayor, Germán Beardo, says: "El Puerto ha vuelto!" (El Puerto is back!).
The beautiful city of Cádiz across the bay is meanwhile enjoying its own gastronomic renaissance, with Código de Barra scooping a first Michelin star. But the ultimate in beach food is found further south.
On the outskirts of Chiclana, Poblado de Sancti Petri comprises a couple of bars, a small beach with kayaks for rent, a boat that goes to the offshore castle, a huge naked Hercules statue, a small stage where Rod Stewart recently performed, and a restaurant, La Casa del Farero. Its menu is full of local fish, scallops and prawns, and tables on the terrace are virtually on the water.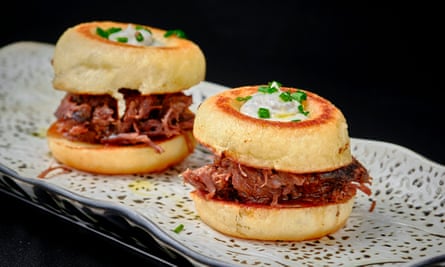 Chiclan has one of the most spectacular beaches in Spain: La Barossa, a five-mile stretch of white sand. The restaurant creating a buzz, El Árbol Tapas, isn't on it, but it's nearby and easy to spot because of the queues. Bright and breezy, its Costa de la Luz-Asian fusion tapas and raciones are created for summer days, and priced for the local clientele. Standouts are the saam of anemones with algae and oyster sauce (€2.80), crunchy strips of langoustine with basil in a dipping sauce (€5.60) and the bao bun of inky chipirones (€3.90).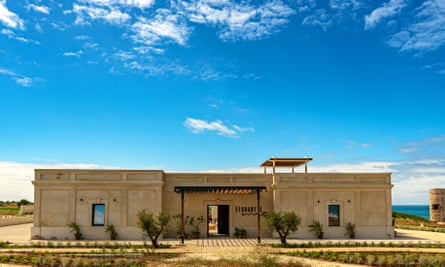 La Barossa is dotted with beach clubs too, from Mojama Beach to Instagram favourites Nova Sunset Club and Vavá Playa. Halfway down, inside Hotel Gran Melia Sancti Petri, Restaurante Alevante by Ángel León offers a third chance to sample the fare of El Chef del Mar, with tasting menus from €145.
On the edge of Chiclana, where the town gives way to fields and wild beach, is El Cuartel del Mar. Sunk in tussocky dunes, it's an old military base transformed into a dreamy place to while away the day by the design team behind the Azotea del Círculo and the Picalagartos Sky Bar in Madrid. It's a surreal find on a virgin beach, with a contemporary art gallery, a rooftop for yoga and/or champagne, and a restaurant. You can just about wiggle your toes in the sand while enjoying ajo blanco con sardina ahumada (€14) and a tarantelo de atún (€26).
On Playa La Fontanilla in the next town, Conil, just a few metres of sand and a kiosk selling buckets and spades separate the family-run La Fontanilla restaurant, founded in the 1960s, and the strikingly modern Feduchy Playa (sister to Feduchy Concil, a few streets back from the beach), set up by three young friends. Both are hugely popular.
People talk about a food revolution on the Costa de la Luz, but nothing's been lost: it's just got better.
Denial of responsibility!
Yours Headline is an automatic aggregator of the all world's media. In each content, the hyperlink to the primary source is specified. All trademarks belong to their rightful owners, all materials to their authors. If you are the owner of the content and do not want us to publish your materials, please contact us by email –
[email protected]
. The content will be deleted within 24 hours.